May 1, 2020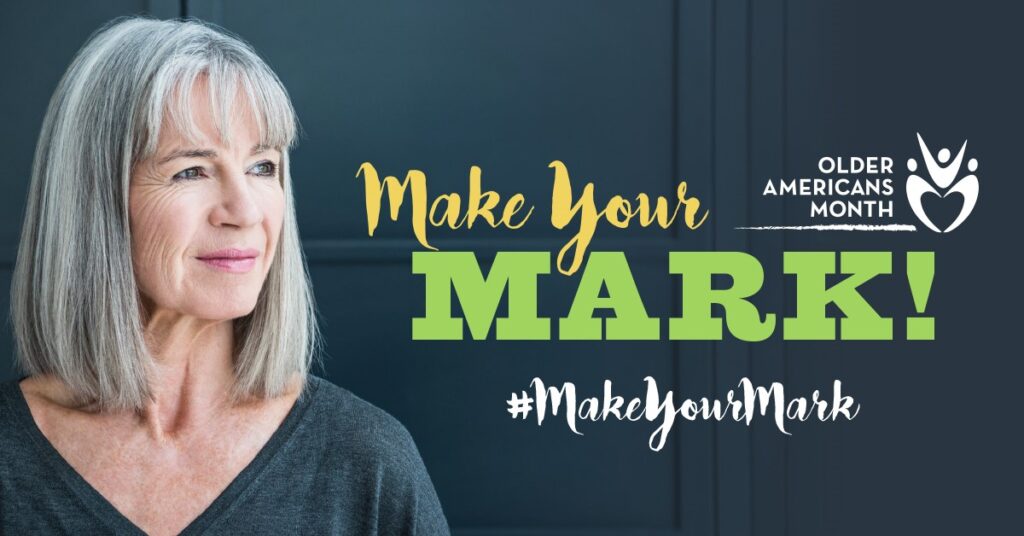 Around the nation, older adults make their marks every day as volunteers, employees, employers, parents, grandparents, mentors, and advocates. They offer their time, talents, and experience to the benefit of our communities.
For 57 years, Older Americans Month has been observed to recognize older Americans and their contributions to our communities. Led by the Administration for Community Living's Administration on Aging, every May offers opportunity to hear from, support, and celebrate our nation's elders.
The 2020 theme for Older Americans Month is "Make Your Mark," and highlights older adults' unique and lasting contributions to their communities—everything from sharing a story with grandchildren to leaving a legacy of community action. In the spirit of this theme, here are a few ways to make your mark. While some of these suggestions will need to wait until social distancing has ended or been relaxed, others can be accomplished through telephone or computer communications.
Share your story. There are so many ways to do this, from showing your grandkids around your old neighborhood to writing a book. Take a class and learn how to express yourself with the arts! Or, assemble a photo album of important moments in your life.
Volunteer your time. Local schools, shelters, food kitchens, and hospitals always need support. Help a neighbor by prepping a meal, picking up groceries, or giving them a ride. Or, take time to pass on your knowledge. Why not tutor a student who could use extra help in math, music, or science?
Get involved in your neighborhood. Join a homeowner or resident association, organize a block party, or sign up for a book club or other social group. Have a green thumb? Small projects like planting flowers in your yard or cleaning up the community park have a big impact.
The Administration for Community Living's website includes a brief history of Older Americans Month. In 1963, President Kennedy established "Senior Citizens Month" after meeting with the National Council on Senior Citizens. At that time, only 17 million Americans had reached their 65th birthdays, and about one third of them lived in poverty, with very few programs to meet their needs. In 1965, President Johnson signed the Older Americans Act, supporting a wide range of social services and programs for individuals aged 60 years or older. The Older Americans Act was reauthorized in March 2020, when President Trump signed HR4334, the Supporting Older Americans Act of 2020 into law.
Ten years after Kennedy's establishment of Senior Citizens Month, the Older Americans Act was amended, resulting in the establishment of Area Agencies on Aging (AAA) nationwide to develop and implement programs and services for older persons at the local level. In 1980, President Carter changed the designation from "Senior Citizens Month" to "Older Americans Month." Every President since John F. Kennedy has issued a formal proclamation during or before the month of May asking that we recognize the older persons in our communities.
As the Area Agencies on Aging for nine North Shore communities, SeniorCare remains committed to serving our elder community– providing and coordinating services to elders and others, enabling them to live independently at home or in a setting of their choice while remaining part of their community. For information on SeniorCare's services, call our Information and Referral Department at 978-281-1750.
SeniorCare salutes our older Americans this and every month. Extra acknowledgement goes out to our RSVP Volunteers of the North Shore, who are continuing to support our community through their combined efforts during the Covid 19 crisis—including Meals on Wheels drivers, medical transportation drivers, money management volunteers, home crafters making masks, caps, gowns and more, and so many other people standing up to help and Making Their Mark!