Family Caregiver Support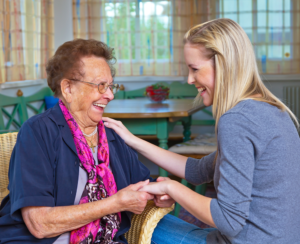 If…
You care for an adult aged 60 or over
You care for an adult of any age with Alzheimer's
You are 55 or older and caring for a grandchild or young relative under the age of 18, or a disabled person between 18-59.
We provide:
Access assistance to caregivers to facilitate obtaining services and resources available within their communities
Counseling for caregivers to assist them in making decisions, assessing the merits of various options, and solving problems related to their caregiver roles
Support groups with a focus on peer support, education and training to reduce stress and develop coping skills
In order to accommodate the needs of our caregivers, SeniorCare offers both in-person and virtual (zoom) Caregiver Support Groups. The virtual group meets weekly and monthly meetings are held in Gloucester and Wenham. Call our Caregiver Support Specialist at 978-281-1750 for information on how to participate in a group. 
Provide community presentations on relevant caregiver issues (for example caring for an Alzheimer's loved one)
Workshops to provide caregivers with knowledge and tools for caring for their loved one.
There are no income eligibility requirements to participate in the Family Caregiver Support program.