Employment
Do You Have a Desire to Help Others?
SeniorCare Inc., a 501(c)(3) non-profit corporation, is committed to the employment of highly qualified candidates and providing those individuals with the opportunity to work in a friendly environment comprised of people who share a desire to help fulfill and support our mission.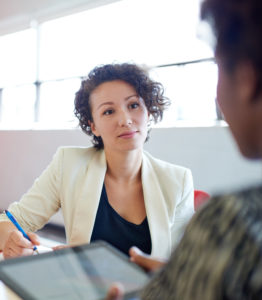 Consider joining our team!
We believe every individual's unique life experience helps us make a positive impact on our consumers, thus every position within SeniorCare contributes to helping our consumers to live more independently within our communities.
When you join SeniorCare, you make a difference in the lives of elders, and adults with disabilities, every day.
SeniorCare is committed to serving a diverse consumer population and fulfilling the Agency mission through employee, volunteer and business partners who reflect this diversity. This ongoing effort will include continually educating ourselves on the needs of both those we serve and employ and the deliberate inclusion of their perspectives in the activities of this organization.
SeniorCare offers a competitive benefit package for eligible employees*
   Health and Dental Insurance
   Short and Long Term Disability Insurance
   Life Insurance
   Emergency Travel Assistance
   Generous Paid Time Off benefits
   Flex Time Policy
   11 Paid Holidays
   403 (b) Retirement Plan
   Flexible Spending Account
*A more complete listing of employee benefits and eligibility is found in the SeniorCare Employee Handbook.
CURRENT EMPLOYMENT OPPORTUNITIES
Full Time
Protective Service Caseworker
SeniorCare is seeking a Protective Service Caseworker for High Risk Elders. The Caseworker performs investigations, service planning and other responsibilities necessary to prevent, eliminate, mitigate or remedy the effects of abuse to an elder. Abuse can take many forms including financial, physical, emotional, sexual and self-neglect. The Caseworker will work directly with at-risk clients, professionals, families and caregivers in home and community settings to assess their ability to understand/appreciate/assume risks, and be able to care for themselves in their living environment. They will assist clients in connecting with any and all available resources with the goal of improving the elder's quality of life and avoiding unnecessary personal safety, medical, financial and other risks.
We are seeking candidates with a graduate degree OR bachelor's degree in human services, criminal justice or a related field plus 2 years' experience working with the elderly. Demonstrated skills in organization, communication, documentation, computer use, collaborative problem solving and obtaining knowledge of community resources and state and federal programs required. (posted 2/24/2023)
---
Part Time
Office Receptionist/Quality Assistant
SeniorCare is seeking a part time afternoon Receptionist and Quality Assistant at our Beverly Office, 22.5 hours per week, Monday through Friday, 12:30 pm to 5pm.
In this dual position you will assist and support the Quality Improvement work with essential duties including running reports, assisting with surveys, and data entry. In addition, as the first access point to the SeniorCare Inc. Beverly Office, you would be responsible for office desk coverage and ensure that all callers and visitors are treated in a courteous and professional manner and assisting as necessary. You will also be expected to provide backup for the receptionist at the Gloucester office, assisting with an overflow of incoming calls.
We are seeking an organized individual with computer and typing skills, basic knowledge of various office machines, and at least two years of extensive phone operation and office skills. A successful candidate will be personable with effective communication both orally and written with the ability to work independently. (posted 2/2/2023)
Luncheon Site Manager & Driver (Manchester, MA)
SeniorCare is seeking an independent self-starter who works well with others and has good organization and customer services skills as well as sensitivity to the needs of older adults to coordinate the provision and service of healthy meals through the SeniorCare Nutrition Program.
Site manager responsibilities include receiving and handling food for home delivered meals and coordinating home delivered meals while observing established food handling practices. Additional duties include scheduling and supervising volunteer drivers, driving a route, maintaining routes, as well as site and quality assurance statistics and, in conjunction with appropriate COA and/or Nutrition Office staff, ensuring meal site is clean and sanitary and reflects a warm and inviting setting. Requirements include minimum of high school diploma, demonstrated customer service and organizational skills, ability to ensure established food service and delivery guidelines are followed, good communication and basic math skills. Must have a reliable vehicle, valid driver's license and the ability to lift 30 pound. Preference given to those with experience working with older adults. The successful candidate will become certified in EOEA sanitation training within three months of hire. (posted 2/24/2023)
---
How to Apply
All Candidates may submit letters of interest and resumes with salary requirements to: careers@seniorcareinc.org or mail to Human Resources, SeniorCare Inc. 49 Blackburn Center, Gloucester MA 01930.
Qualified veteran, minority, female, disabled, bilingual and LBGT candidates of all ages, religions and national origins are encouraged to apply.
Affirmative Action/Equal Opportunity Employer.
INTERNSHIPS
Prospective interns, or their advisers, may contact us at 978-281-1750 or 1-866-927-1050.
VOLUNTEERS
Please see our Volunteer website.