Last update: May 6, 2020
At this time, information about the COVID-19 situation is changing continuously. For the most up to date information, please visit the U.S. Center for Disease Control (CDC) or Massachusetts COVID-19 information pages.
See a Mass Dept of Public Health video on masks and their proper use here.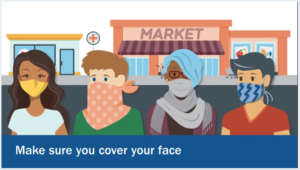 Sign up for text updates from the state by texting CovidMA to 888777.
SeniorCare has developed several resource lists to assist people during the COVID-19 crisis. These documents will be updated regularly, and may be found online at: https://bit.ly/SC-covid19
SeniorCare's number one concern during this time is the well-being and safety of our consumers, staff and volunteers. Special notices will be sent to consumers concerning any adjustments to services that might become necessary.
If you have any concerns about your services, please contact your Care Manager or the SeniorCare Department that handles your services.