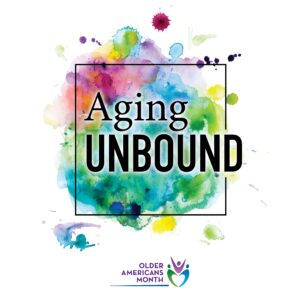 In tough times, communities find strength in people—and people find strength in their communities. In the past year, we've seen this time and again throughout the North Shore as friends, neighbors, and businesses have found new ways to support each other.
In many cases, older adults are a key source of this strength. Through their experiences, successes, and difficulties, they have built resilience that helps them to face new challenges. When we tap into this resilience, we become stronger too.
For 60 years, Older Americans Month has been observed in May to recognize older Americans and their contributions to our communities. The 2023 theme for Older Americans Month is "Aging Unbound," offering the opportunity to explore a wide range of aging experiences and to promote the importance of enjoying independence and fulfillment by paving our own paths as we age.
Here are some ways we can all participate in Aging Unbound:
Embrace the opportunity to change. Find a new passion, go on an adventure, and push boundaries by not letting age define your limits. Invite creativity and purpose into your life by trying new activities in your community to bring in more growth, joy, and energy.
Explore the rewards of growing older. With age comes knowledge, which provides insight and confidence to understand and experience the world more deeply. Continue to grow that knowledge through reading, listening, classes, and creative activities.
Stay engaged in your community. Everyone benefits when everyone is connected and involved. Stay active by volunteering, working, mentoring, participating in social clubs, and taking part in activities at your local senior center or elsewhere in the community.
Form relationships. As an essential ingredient of well-being, relationships can enhance your quality of life by introducing new ideas and unique perspectives. Invest time with people to discover deeper connections with family, friends, and community members.
The Administration for Community Living's website includes a brief history of Older Americans Month. In 1963, President Kennedy established "Senior Citizens Month" after meeting with the National Council on Senior Citizens. At that time, only 17 million Americans had reached their 65th birthdays, and about one third of them lived in poverty, with very few programs to meet their needs.  In 1965, President Johnson signed the Older Americans Act, supporting a wide range of social services and programs for individuals aged 60 years or older.  The Older Americans Act was reauthorized through 2024 in March 2020.
Ten years after Kennedy's establishment of Senior Citizens Month, the Older Americans Act was amended, resulting in the establishment of Area Agencies on Aging (AAA) nationwide to develop and implement programs and services for older persons at the local level. In 1980, President Carter changed the designation from "Senior Citizens Month" to "Older Americans Month." Every President since John F. Kennedy has issued a formal proclamation during or before the month of May asking that we recognize the older persons in our communities.
As the Area Agencies on Aging for nine North Shore communities, SeniorCare remains committed to serving our elder community– providing and coordinating services to elders, enabling them to live independently at home or in a setting of their choice, while remaining part of their community. For information on SeniorCare's services, call our Information and Referral Department at 978-281-1750 or visit www.seniorcareinc.org.
SeniorCare salutes our older Americans this and every month. Extra acknowledgement goes out to our AmeriCorps Seniors program, RSVP Volunteers of the North Shore, who continue to support our communities through their combined efforts—including Meals on Wheels drivers, medical transportation drivers, money management volunteers, home crafters, and so many others.
Read President Biden's proclamation on Older Americans Month.