Behavioral Health Helpline: 833-773-2445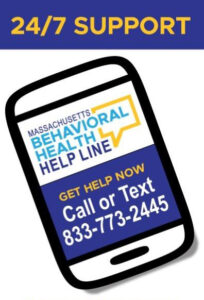 Massachusetts has launched a statewide network of 25 designated Community Behavioral Health Centers to provide expanded access to behavioral health evaluation and treatment in communities across the state.
These centers will serve as an entry point for timely, high-quality and evidence-based treatment for mental health conditions and substance use disorders, including routine appointments, urgent visits, and 24/7 community-based crisis intervention as an alternative to hospital emergency departments. CBHCs receive enhanced state funding through alternative payment models to support flexible, person-centered treatment.
Learn more at: https://www.mass.gov/info-details/community-behavioral-health-centers
Comprehensive article at: https://www.bostonglobe.com/2023/01/01/metro/states-front-door-behavioral-health-care-set-open-demand-services-soars/?p1=StaffPage (Boston Globe subscription required to read article)