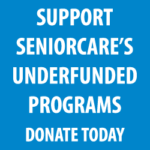 As we turn the page on 2022 and the year of our 50th Anniversary, SeniorCare's proven history of providing services to our senior community demonstrates that we have gained the trust and respect of our constituencies.
It's now time to begin a new chapter – one that ensures exceptional care for countless seniors who rely on SeniorCare to remain in their homes safely and with dignity. We will continue to work closely with those we serve, their families and other informal supports, carefully integrating programs and services that enable seniors to live comfortably and independently.
SeniorCare services include information and counseling services, nutritional support, money management assistance, medical transportation, family caregiver support, home care, protective services, and more. Furthermore, we are now on the precipice of offering exciting technological tools that enhance our clients' companionship, entertainment, medication and appointment reminders, and access to the world via the internet.
Annie's Story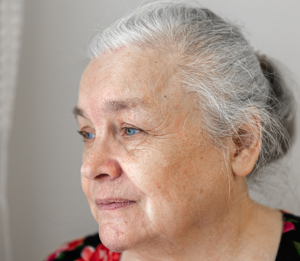 Annie, who is in her eighties, has lived for more than 50 years in Gloucester with her husband Frank. They  relocated from Pennsylvania after Frank accepted a job at the Gorton's Fishery Company. Annie and Frank raised two daughters and a son who still live on the North Shore today.
In 2020, Annie and her children were devastated when they lost Frank during the COVID pandemic. It was an extremely difficult time as they were unable to be with him due to COVID restrictions at the hospital. Fortunately, they were able to bring him home during his last week before passing. It was a traumatic loss for the family, particularly Annie. She was heartbroken after losing her partner and the love of her life.
Annie moved in with her youngest daughter Emily. As months passed, Emily grew concerned about her mother's lack of interest in daily activities. Annie struggled to get out of bed in the morning to start her day. Emily was afraid that her mother might be slipping into depression and isolating herself from her family and others.
At the advice of a close family friend, Emily contacted SeniorCare and requested assistance for her mother. An Options Counselor was able to offer some suggestions for services that might help Annie.
In addition, the Options Counselor put Emily in contact with a Family Caregiver Support Specialist at SeniorCare. Together, they strategized how to best help Annie.
Emily enrolled Annie at Day by Day Adult Care to provide her with a comprehensive program to help her engage and encourage her to participate in activities she loves like cooking, walking, shopping, and socializing. Annie was apprehensive about the program at first, not wanting to participate, but with the encouragement of her family and the Family Caregiver Support Specialist, this all changed. Slowly, Annie engaged with others at the Center and began to participate in the activities.
Now, Annie can't wait to get dressed in the morning and head out to the Center. She is walking every day and enjoys bingo and bowling with her friends. Annie also made a new best friend, Mary. According to Annie's daughter, "Annie and Mary have formed a strong bond with one another and are now inseparable." Annie is excited and eager to get up in the morning to see Mary to talk and laugh and plan their new adventures together.
Emily has watched her mother transform from ongoing depression and social isolation to a euphoric state of happiness. "SeniorCare has given my mother back her sense of purpose and the joy in her life." Emily and her family credit SeniorCare's knowledgeable staff with providing the assistance needed to help Annie throughout the process and for making this happen. "We are so grateful to SeniorCare, and we couldn't have done this without their help and guidance. We will be forever grateful."
Will you consider a gift today to support services like these and SeniorCare's many other underfunded programs and services?
This is an exciting time for SeniorCare. Fifty years of dedicated experience has given us the momentum we need to move us forward into the future. Your generosity is what makes our ambitious goals attainable. Thank you for believing in us and for your enthusiastic support of our mission.
On behalf of the Board of Directors and staff of SeniorCare, I would like to wish you a safe and joyous holiday season and, as always, thank you for being a part of our SeniorCare family.
Sincerely,
Scott Trenti
Chief Executive Officer
P.S. Thank you for considering a gift today. You can make a donation at https://seniorcareinc.org/donate/.